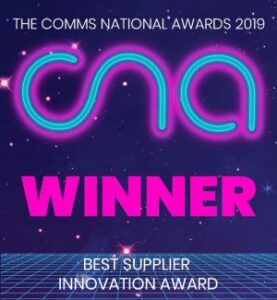 PRD Technologies were delighted to win Best Supplier Innovation in the Innovation Category of the Comms National Awards 2019 held on 10 October at the Hilton Park Lane.
The category was one of the most competitive with ten finalists. PRD achieved success with their 'first to market' cloud consumption reseller billing system enables cloud service providers and value added resellers to collect, process and bill for data used with confidence.
Highly automated and continuously scalable, their cloud systems Intelligent Billing software, enables businesses to grow with ease.
One customer refers to it as the 'Holy Grail'.
In supporting their award submission, Mark Davies, Managing Director of Westcoast Cloud said:
"I have the upmost respect for the team at PRD. They took a complex billing requirement that they had never handled before, and built a completely bespoke system capable of handling all of our requirements…
They are an absolute pleasure to work with, and they deliver on their promises – and that's a rarity…
Their system has enabled us to substantially grow our business over the last two years, from £18 million to £50 million in billing, know we can have confidence in the way we bill, in a way we never did before.
I can't recommend them highly enough."
You can see the full testimonial from WestcoastCloud on our testimonials page.
In responding to their impressive win, Simon Adams, Managing Director of PRD, said:
"I am so chuffed to have won this fantastic accolade. The team are always keen to push the boundaries and love to rise to any challenge. They were very enthusiastic about delivering a solution for Westcoast, that would support other cloud providers.
Our team are so committed to delivering the very best technology, coupled with fantastic customer service, it is wonderful that their efforts have been celebrated and appreciated.
Huge thanks to everyone who has supported us in winning, and rest assured we won't be resting on our laurels!"